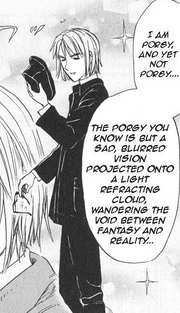 Porgy (ポギー Pogī), whose real name is Wataru Hogi (保木渡流 Hogi Wataru), is a bassist and lyricist in the popular band JULY (ジュライ jurai). Porgy was once a very handsome and pretentious man who liked to show off his poetry skills to his squealing fangirls, however that all changed the day he met Jaguar Junichi and his identity and dignity were shattered forever. He is voiced by Mitsuaki Madono in the OVAs and Drama CDs.
Meeting Jaguar
Edit
Porgy was first seen going through his usual routine of strolling through town with confidence and reciting poetry to lovestruck women. However after coming face to face with Jaguar, the two faced off in a poetry contest in which Jaguar easily destroyed Porgy's confidence in his poetry skills with his over the top poetic skills, then telling him that his poems are nothing but pretty lies. Porgy then becomes so flabbergasted that he is unable to write anymore and is kicked out of JULY. Since then he has now focused his life on stalking Jaguar and challenging him to random poetry contests as his masked alter-ego Wrestler Mask (レスラー仮面 Resuraa Kamen). He is also attempted to get back his position in JULY, but they have long since replaced him with a new bassist much to his misfortune.
Ad blocker interference detected!
Wikia is a free-to-use site that makes money from advertising. We have a modified experience for viewers using ad blockers

Wikia is not accessible if you've made further modifications. Remove the custom ad blocker rule(s) and the page will load as expected.